H&R Block Tax Preparation Mobile App Review

Find out if filing taxes with the H&R Block tax preparation app is right for you.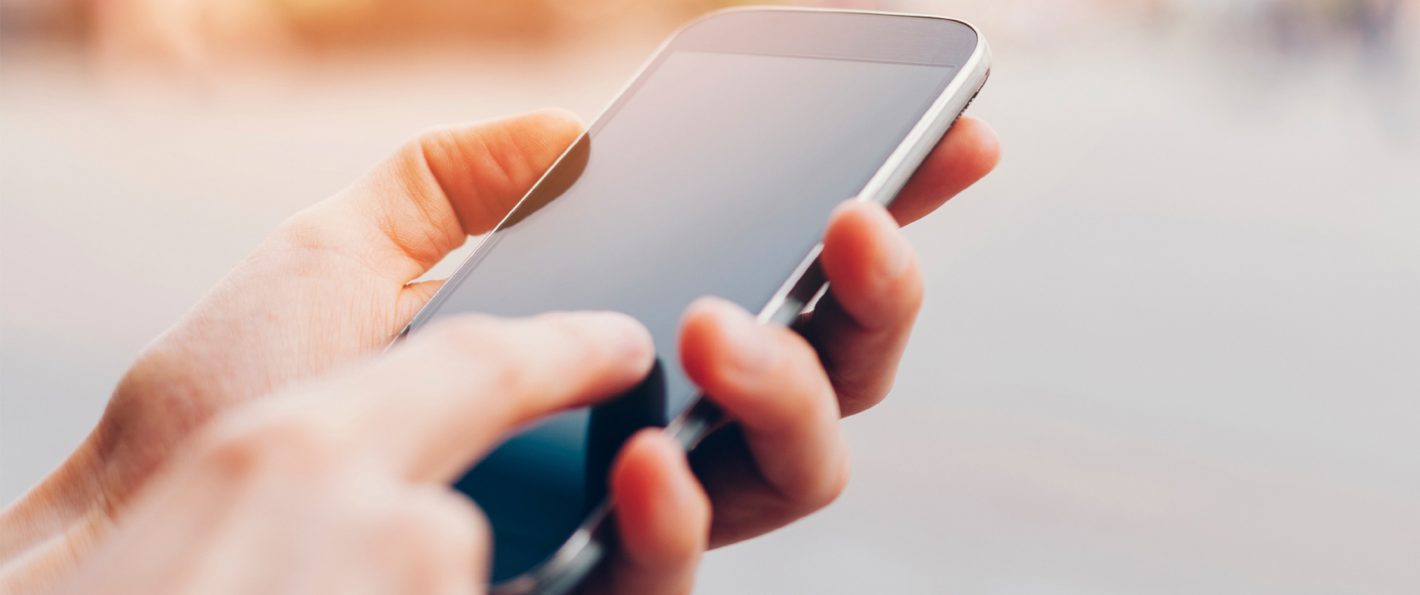 Filing your federal taxes and state taxes can be quicker and easier if you are using online filing options. Now, programs for e-filing your income taxes have gotten even more user-friendly and more widely available across multiple platforms. With so many tax preparation software options available, it might be hard to decide which company and program to choose. One of the most popular tax prep apps available today is the H&R Block Tax Preparation mobile app.
This tax prep app offers safety features, a user-friendly experience and step-by-step guidance, which lets you file taxes online with confidence from any location. The H&R Block Tax Preparation app is available for free in the iTunes App Store and Google Play store. Take a look at how it works and some of its features to decide if the H&R Block Tax Preparation app is the right tax prep app for you.
Read: 10 Commonly Missed Tax Deductions
How to Sign Up for and Use the H&R Block Tax Preparation App
The Google Play store app rating for H&R Block Tax Preparation is over two-and-a-half stars, and the iTunes App Store rating is three-and-half stars. Take a quick look at some of the other stats for this tax prep mobile app to see if it could be right for you:
H&R Block Tax Preparation Mobile App at a Glance
Cost to Download
Free
Where Available
iTunes App Store and 

Google Play

Downloads

Info not available for iTunes App Store
10,000 to 50,000 in Google Play

iTunes App Store Rating
3.5 stars
Google Play Rating
2.6 stars
Signing up for this popular download is quick and simple. By following just a few steps you can be on your way to filing taxes.
1. Download the app. Get the app from the iTunes App Store or the Google Play Android app store. Sign into an existing H&R Block account or create a new account. If you create an account, the app can save your personal information.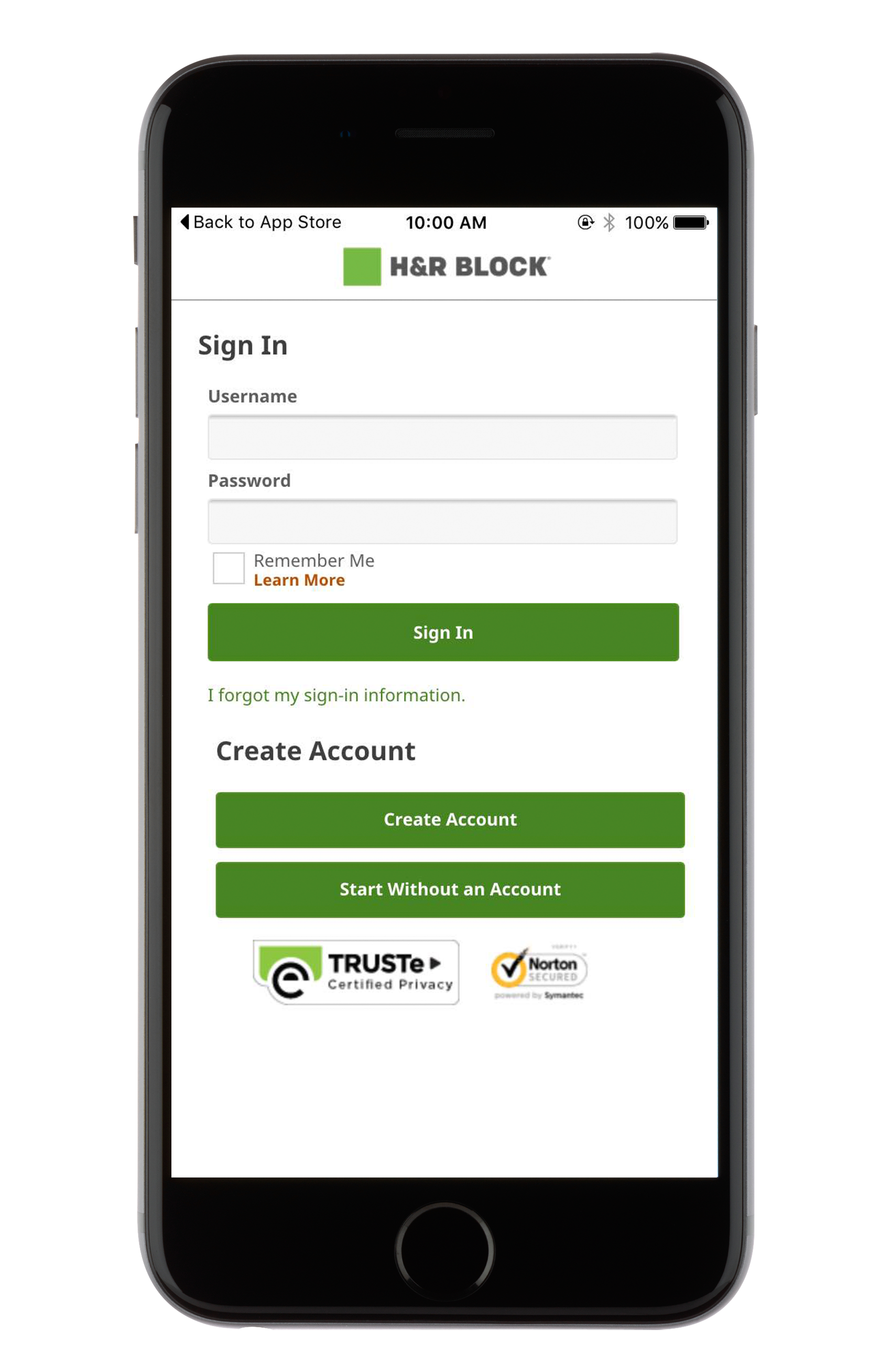 2. Use your mobile device to take a snapshot of your W-2 form. The app automatically inputs the information into your return.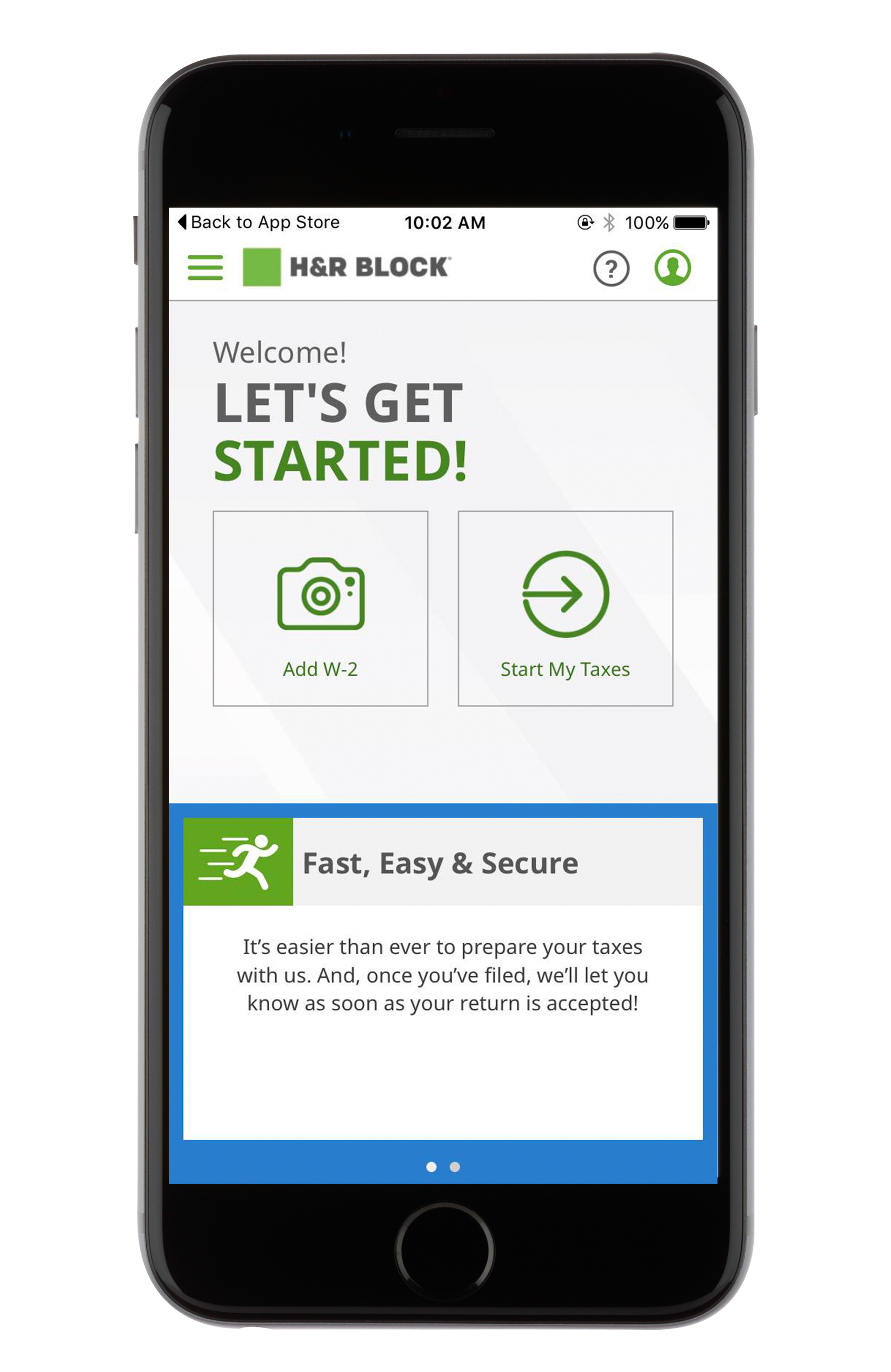 3. Provide information about your tax situation. Once the app enters your W-2 information, answer tax-related questions on your marital status, whether you have children, own real estate or are self-employed.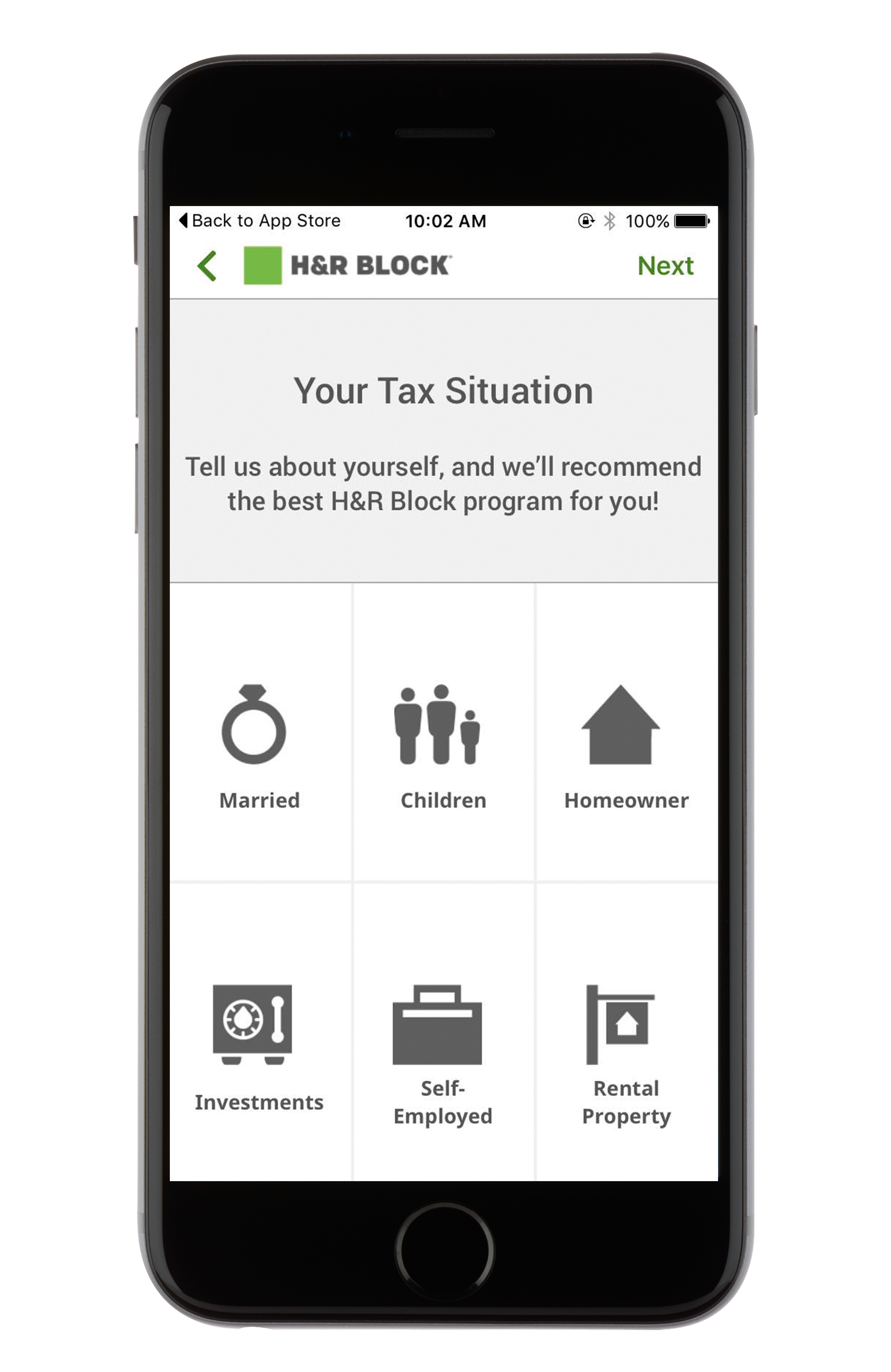 4. Choose which version of the H&R Block tax prep service you want. Based on your tax situation, the app then recommends the best H&R Block program for your situation. To start using the app to file taxes, select the tax return version that's right for you:
Free version: recommended for first-time filer
Basic version: recommended for simple federal returns
Deluxe version: recommended for investors
Premium version: recommended for those who are self-employed or own rental property
5. Enter more financial details. Once you've selected the program you want to use, the app will guide you through each component of filing your federal taxes, prompting you to enter more intricate financial details like income from interest on savings accounts and information on factors such as education deductions, charitable donations and moving expenses.
6. File your state and federal taxes online. You'll have the option to file your state taxes after you've gone through all the steps to complete your federal taxes; the app will automatically apply all the information you've entered for your federal tax return.
7. Make your payment or prepare for your refund. After you've completely filled out your tax return by going through each step in the program, you'll be able to select your method of paying for the H&R Block tax preparation service and for anything you owe if you have taxes due. If you're owed a state or federal refund, you'll have the chance to choose to receive your money either as a check mailed out to you or a deposit into your bank account.
Secure Filing With the H&R Block Tax Preparation App
Since tax returns include sensitive data such as your name, address and Social Security number, you might have reservations about using a mobile app or other online software program. Taxpayers can rest assured that H&R Block takes the necessary measures to protect your privacy as you file taxes. There's a secured connection from the moment you start a return, and the tax prep app employs both multilevel authentication and encryption technology in order to keep your personal and financial information secure.
Features of H&R Block's data protection include the following:
Web-browsing encryption technology
Multi-layer authentication
Bank-level encryption technology
Security protection team
Secure facility
Inspections by top security firms
Read: 6 Ways You Might Be Eligible for a Tax Write-Off
Pros and Cons of the H&R Block Tax Preparation Mobile App
Using a mobile app might not be what you had in mind for doing your tax preparation. But if you've used H&R Block in the past — either in-person or via online software — the company's tax preparation mobile app might be right up your alley. One Google Play reviewer described it as "what you want in a tax prep app." To decide if this particular tax prep mobile app is right for you, understand some of the advantages and disadvantages to using it.
The Pros: Seamless Use Across Multiple Devices and More
The H&R Block app is free to download and for ultimate convenience, users have the option to seamlessly switch from doing taxes online on a smartphone to a tablet or a computer. The tax prep app offers other helpful features:
• Detailed tax refund information on factors that affect your refund or balance due
• Previous tax return is history available for filers who used H&R Block software for prior-year returns. Access is available if you file a basic, premium or deluxe return.
• Unlimited tax advice
• Live support available via chat through the app or by calling H&R Block at 1-800-HRBLOCK 
• Maximum tax refund and accuracy guarantees
• Tax-return status updates
• Easy importing of W-2 forms via your mobile device's camera
• Lets users file complex returns
• Free, in-person tax audit support if you receive an audit notification from the IRS
The Cons: Crashing and Freezing
Now that you know all the best features of the H&R Block Tax Preparation mobile app, check out some of the disadvantages to using this program:
• Users have experienced system glitches like crashing, freezing screens, and previously entered information not being saved.
• Filing fee applies for doing taxes by state. Basic, deluxe and premium customers pay tax preparation fees for both federal and state returns.
If these cons are not worth the conveniences offered by the H&R Block mobile app, you might want to consider alternative apps that provide similar services.
Apps Similar to the H&R Block Tax Preparation App
H&R Block's app isn't the only option for tax preparation services; there are similar products with comparable features. Among the most comparable are TaxAct Express and TurboTax Tax Preparation.
TaxAct Express has an overall four-star rating in the Google Play store and 100,000 to 500,000 installs, but the current version of the app only has earned just one-and-a-half stars in the App Store based on eight ratings. TaxAct Express is for simple federal and state returns.
Another option is the TurboTax Tax Preparation app, with a four-star rating in the Google Play store and between one million and five million installs, and a five-star rating on the App Store. Similar to H&R Block's Tax Preparation App, users receive a maximum refund guaranteed, and there's also an option to take a photo of a W-2 form for simple upload. There are options for federal free, deluxe, premier, and home and business filing.
Filing Taxes With the H&R Block Tax Preparation App
H&R Block's Tax Preparation app might be a good choice if you're looking for a tax prep app that provides IRS audit support, access to a tax pro, and high flexibility with the ability to manage your return across multiple devices. Just know that patience is required as you might experience a few system glitches while preparing your return.
Related: 25 Ways to Prevent a Tax Audit