Sir Paul McCartney's Net Worth, Top Songs and Life After The Beatles

As McCartney turns 75, here's how he's changed music — and gotten very rich along the way.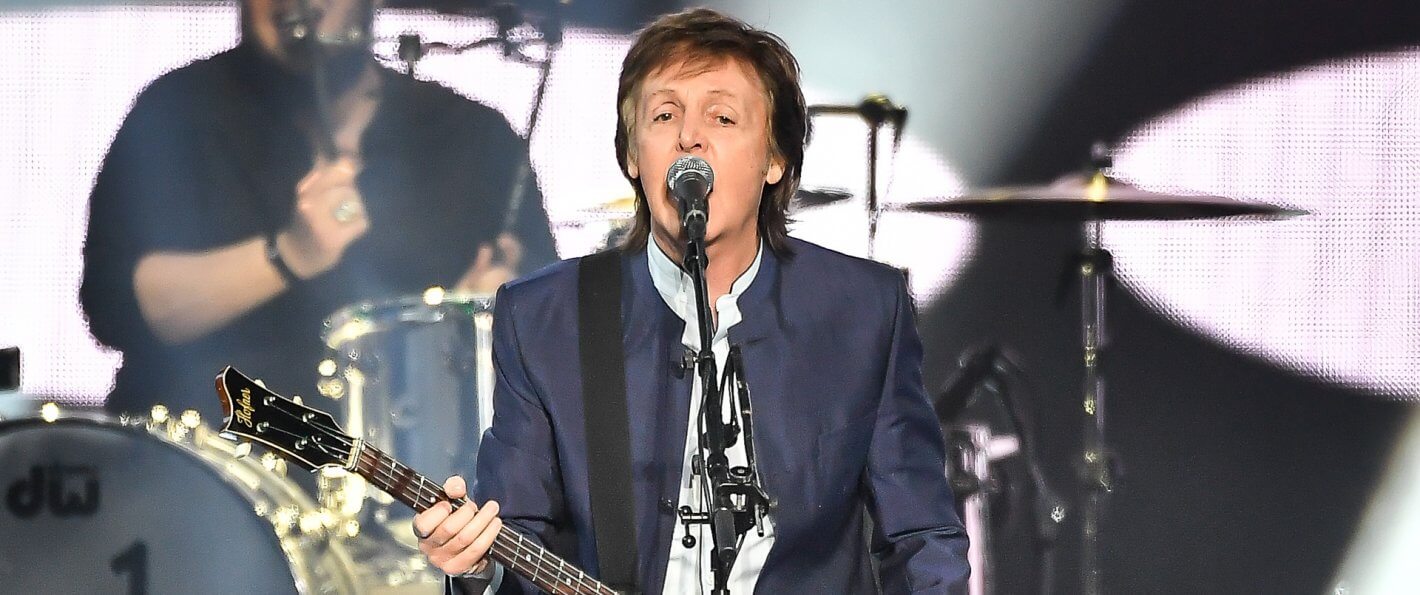 Sir Paul McCartney, one of the most celebrated and accomplished musicians in history, turns 75 on June 18. McCartney grew to international fame with The Beatles and went on to become a wildly successful solo musician. Here is a look at the career, life, accomplishments and net worth of the two-time Rock and Roll Hall of Fame inductee.
Paul McCartney Net Worth: $1.2 Billion
Paul McCartney's net worth is estimated at $1.2 billion, according to the website CelebrityNetWorth. In 2016, a frantic touring schedule earned McCartney $56.5 million, enough to land him the No. 25 spot on Forbes' list of that year's highest-earning celebrities. In fact, he toured more last year than either Katy Perry or Beyoncé.
He has embarked on at least 14 major national and international tours since 1972, as well as an impressive array of other single-night appearances, concerts, benefits and specials, including Live Aid and Super Bowl XXXIX. According to TheRichest, which tracks celebrity earnings, his 2002 tour grossed $130 million. He earned $103,000 per show in 2003, and his tour in 2010 sold $93 million worth of tickets. In 2014, he earned $71 million.
In the summer of 2017, McCartney will embark on a tour that includes performances in 15 cities across the United States and four in Brazil. Clearly, this billionaire musician isn't considering retiring anytime soon.
Where Are They Now? 10 Celebrities Who Are Enjoying Retirement
Paul McCartney and The Beatles
By the middle of the 1960s, The Beatles were a smash success, and the band's U.S. debut was dubbed "the British Invasion." The group released more than a dozen Beatles albums in the 1960s.
Along with John Lennon, Liverpool native McCartney was part of one of the most successful duos in music history. Either on his own or in tandem with Lennon, McCartney wrote some of The Beatles' most celebrated songs, including "Hey Jude," "Yellow Submarine," "Let It Be" and "Yesterday." "Hey Jude" alone is No. 10 in Billboard's top Hot 100 Songs of all time.
The Beatles earned record-high album sales and released chart-topping singles. Statistic Brain reported the group sold more than 2.3 billion albums, spent 1,278 weeks on the charts and 175 weeks total at No. 1. The group had 15 chart-topping hits and the album "Please Please Me" spent 30 weeks at No. 1.
Though Lennon and George Harrison died in 1980 and 2001, respectively, there is one other surviving member of The Beatles. Ringo Starr has a net worth of $350 million.
Paul McCartney's Solo Career
In 1970, then 27 year-old McCartney released an experimental solo album in which he played all of the instruments, titled simply, "McCartney." Not long after, The Beatles disbanded and McCartney went on to form the 1970s band Wings, which cranked out several hit singles.
McCartney went on to become one of the most successful musicians of the 1970s. Five of the nine top 10 albums he released that year reached No. 1. He had six No. 1 singles and 15 songs that landed in the top 10.
Throughout his career, Paul McCartney has collaborated with some of history's most celebrated musicians, including Elvis Costello, Stevie Wonder, Billy Joel, Michael Jackson and even Kanye West during a now legendary 2015 performance.
For his work in music, Paul McCartney has been inducted into the Rock and Roll Hall of Fame both as himself and as a Beatle. In 1997, he was knighted Sir Paul McCartney by the Queen of England.
Paul McCartney's Family and Personal Life
Paul McCartney married Linda Eastman in 1969. The couple raised four children together — Stella, James, Heather and Mary McCartney. The two stayed together until Linda died of cancer in 1998. At the time of her death, Linda McCartney had a net worth of $5 million.
In 2002, McCartney married former model Heather Mills, and they had a daughter, Beatrice, in 2003. Mills has maintained a varied career in television and activism since. The two divorced in 2008, and McCartney married again in 2011, this time to Nancy Shevell. In 2015, McCartney bought a $15.5 million triplex in Manhattan. The newest Paul McCartney house is just one among a vast network of lavish real estate holdings.
Paul McCartney began his career with The Beatles, which is regarded as one of history's most influential and successful bands. His solo career has been no less prolific, profitable or successful. With the 75th Paul McCartney birthday right around the corner, the billionaire Beatle will celebrate as one of the richest, most beloved and most emulated musicians in history.
See More: Biggest Hits and Flops of Celebrities Who Dabbled in Music